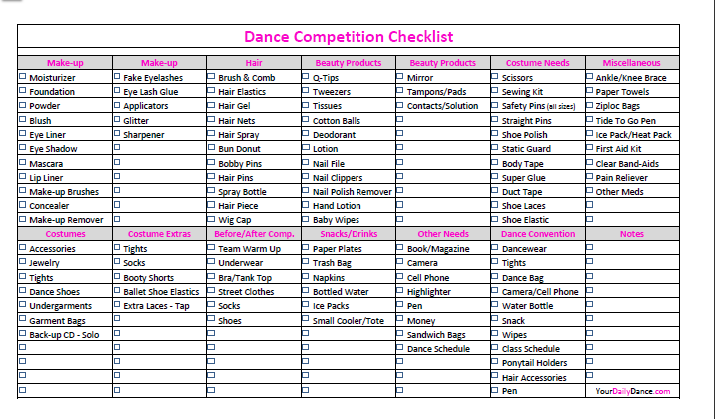 This post may contain affiliate links that allow us to earn a small commission at no additional cost to you.
Updated:  February 12, 2016
Getting prepared for an upcoming dance competition can seem like a daunting task if you don't have a good checklist in place.  I have a checklist that I use each year.  It has been tweaked and added to over time.  For me, I would be sure to forget something – probably something important, if I didn't have my checklist to guide me.  I remember sitting at a parent meeting the first year my daughter was in company, diligently writing everything the experienced Dance Mom was telling us we would need.  Over the past few years, I have added a few things of my own and picked up some tips from other Moms both from our studio and others.  The creativity of Dance Moms never ceases to amaze me.  Oh, and a word of advice, if you see a great product or something cool another Mom is using and you have a moment and they appear to have a moment, go ask them about it.  Most of the time, other dance moms are happy to share their knowledge.
The dance competition checklist I use is below.  Feel mark through the things that don't apply to you this year and add any additional items you know you may need in the empty spots.  If there is a great product you can't live without, comment below so others can see it too.
Dance Competition Checklist
This checklist fits on an 8 1/2 x 11 sheet of paper.
Downloadable/Printable Pdf File:  Dance Competition Checklist