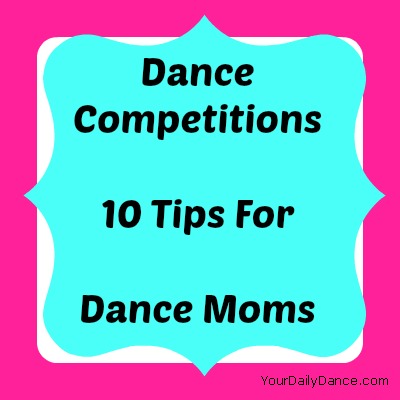 Competitions are fun and with a little planning can be enjoyable for both Mom and dancer.  While it is important to make sure my dancer has all the things she will need for the day, there a few things that are on my "this will make my day so much better" list.
Tips
A Program – Yes, they can be a little expensive, but it is nice to have a schedule of the day and since some dance competitions do not put competitors numbers back to back, it is nice to be able to see which dances your dancer or dancer's team will be competing against.
A Highlighter – to highlight the program so you can easily keep up with the dances from your studio.  You won't want to miss an opportunity to support your teams.
Mini Flashlight – It can be difficult to read your program in a dark theater.  A small pen flashlight is the perfect solution.  Forgot your flashlight?  The light from your cell phone can help too or there is always the flashlight app.
A Pen –  to write down the scores in the program .  By the time you get through the competition season, it may be difficult to remember which dance got what award at XYZ competition.
Keep your pen readily available to write down songs or lyrics because inevitably, you will hear a song(s) you would like to
a.  add to your music collection –or-
b.  consider for a future solo, duet etc., if your dance studio allows input from dancers
Kleenex – especially for the first competition.  There is something about seeing my dancer on stage at the beginning of a new season that gets me every time.
A snack for yourself – the days can be long and a lunch or dinner break may be a little later than you thought or it may be non-existent.  Make sure you pack some snacks for yourself to keep your energy level up and your mood positive.
Dress in layers.  The venue may seem chilly in the morning, but after you have hustled back and forth to the dressing room for costume changes, you may be ready to remove the sweater or jacket.
Headache medicine of choice – just in case the hustle bustle of the day and the constant music stimulation leave you looking for some pain relief.
A tote bag or backpack to put all of the above things in, your wallet, cell phone, and camera for fun snapshots of your dancer enjoying his/her day.  It is much easier to keep up with one bag than to keep up with a purse and a camera bag or a snack bag.
While the above items are not things, I could not live without, they sure do make me feel ready to take on the long day.  What are your "must-haves" for competition day?