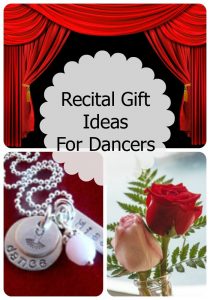 It's almost that time of year – dance recital time.  I love this time of year.  It is so fun to sit back and relax and watch the performances without the stress of a dance competition.  Many dance studios have their annual dance recital in May or June.  Some parents and family members like to give gifts to their dancer(s) to celebrate the end of the dance year and their dancer's performance.  It is certainly not necessity and typically it seems each family finds a tradition that works for them.  It may be a family dinner out after the recital or going out for ice cream.
We have always given flowers.  My dancer loves them and it was something I enjoyed receiving after my own dance recitals.
Recital Gift Ideas
1.  Flowers  – This is one of the more popular choices.  Some parents choose to give the dancer a rose for each year of dance.  Others may choose a beautiful bouquet that compliments the last costume the dancer wears in the recital. 
2.  Charm For Charm Bracelet – A really cute idea is to give a charm that is either dance related or one that ties into one of the songs the dancer is dancing to that year. 
3.  Dance Necklace – There are several Etsy stores that have some really cute options. 
1.  Jenn's Handmade Jewelry
2.  Poppy Chic Jewelry
3.  Ooh So Charming
4.  DLK Designs
5.  Branded Heart
If none of these necklaces suit your fancy, a simple Etsy search on Dance Necklace will bring up a variety of dance necklace options.
4.  Tickets To A Summer Theater or Dance Production – We have done this in the past.  In our case, it was something I was planning for us to attend and it seemed like an opportune time to surprise our dancer with the tickets. 
5.  Summer Dance Item – If your dancer is going to an intensive over the summer, something they can use during that time may be a great option.  It could be something as simple as a new water bottle or a gift card for a store or restaurant in the area. 
6.  Picture Frame For Dance Photo
7.  Album and Scrapbook Items – to scrapbook all those photos from the dance year. 
8.  Dolls – Little girls love the ballerina dolls.  You can usually find ballerina dolls at your local dancewear store or online stores like All About Dance, have them as well. 
9.  Pedicure – this is a great gift idea particularly for older dancers who work so hard all year.  Their feet could really use some pampering.  You can always make it a mother/daughter treat to celebrate the end of the year. 
10. Something to pamper the dancer- After a busy recital weekend, this is a great option for dancers.  Bubble bath,  favorite Magazine and lotion, are great options. 
Do you give recital gifts?  What have you given in the past?