Dancer's Toolbox is a new app introduced by Nappytabs.  Dancer's Toolbox allows you to check all the upcoming dance opportunities in LA, NY & London.  If you are looking for a class, interested in auditioning, seeking out certain teachers, the Dancer's Toolbox will give you that information at your fingertips.  Here's how it works.
The Dancer's toolbox is available in iTunes. See below for full details on how the app works. YDD is proud to be an iTunes affiliate.
Dancer's Toolbox
This is your home screen.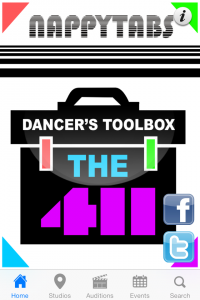 Looking For Dance Classes?
Choose A City:  Your options at this time are Los Angeles, New York and London.
After choosing a city, you will see a list of studios. 
Choose a studio and you will see the phone number and address of the studio.
Click "Go To Class Schedule" and you will see upcoming classes and who is teaching at that studio.  Click the Add Class button on the top right to add the class to your calendar. 
Looking for audition opportunities?
Click the audition button and you will see a list of upcoming auditions in New York, LA and London.  Click on "Reminder" to add the information to your calendar. 
Need more audition info?  Click on the audition that interests you for more info. 
Interested in local Dance Events?
Click on "Events" to see a list of upcoming performances in the area. To add an event to your calendar, click "Reminder".
See an event that interests you, click on it for further details.
This app is a great resource for local dancers and those visiting New York, LA or London. What a great tool to allow dancers to take advantage of taking a class from a particular teacher or being exposed to a new style of dance.
Do you think this app will be useful to you?