The Harlem Shake seems to have replaced Gangnam style as the new dance craze that anyone and everyone can join in on.  Have you made your video yet?  From sports teams, to ballerinas to airline passengers, the Harlem Shake seems to be taking the world by storm.  Want a video, but you're not sure how to put one together?  Have no fear.  There is an app for that.
The Harlem Shake app is so simple to use.  I made a Harlem Shake video for my children and their cousins before the app was released.  This app makes the process so much easier.  Oh and the app is free which is always a bonus!
How to use the Harlem Shake app
This is what you see when you open the app.
The app allows you to film the first dancer for 15 seconds and then the whole group for 15 seconds.
You can set a countdown for the video to begin the first take of dancer one.  Your choices are 5, 15, or 30 seconds.  For the second take of everyone dancing, you can pause then start or choose between 5, 15, or 30 seconds.
Press record to begin.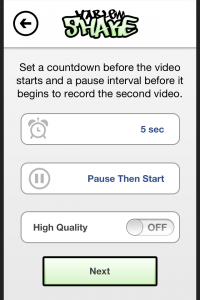 Once your video is complete, you can play it, save it, share it or start over and make another one!
Enjoy! Hope you have as much fun with this as we have. Happy Shakin'