My first post about creating dance space in your home was over two years ago and continues to be relevant today, but I thought why not re-visit the topic and check out some additional ideas to inspire those of you who are looking for ways to create the perfect place for your dancer to practice or just have fun creating movement in their own space.  Maybe you are looking for a way to make a room work for the whole family and would like to create both a dance space and a space to exercise too.  Check out the photos below as well as our previous post for some awesome ways to creatively transform even the smallest space into an area to practice dance.
Click each photo to go to Houzz.com and get more details on how the space was created.
1.  Between the dance pictures, awards and "Love to Dance" painted on the wall, this in home studio looks like a real dance studio.
2.  Great way to make a long narrow room look a bit bigger.  Love all the various lighting and wall shelves for photos and trophies. The flooring is a fun touch as well!
3.  Spacious and bright might be just what you're looking for if you are transforming space in the basement.
4.  If a formal space for dance and exercise is what you have in mind, check out this space.
5.  Great example of making the most of the floor space available.
6.  Another great example of creating a space to both dance and exercise.
7.  Walls of mirrors and a disco light transform this room into a girly space to create and practice.
8.  Want to make the most of a wall in your room?  Love this framed mirror and barre.
A simple piece of dance flooring the width of the mirror would be an easy addition as well.
9.  Love the great storage options in this space.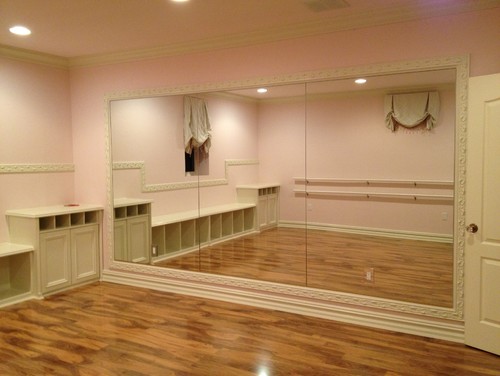 10.  Perfect little spot for a little dancer – love how they made the most of this recessed area of the room.