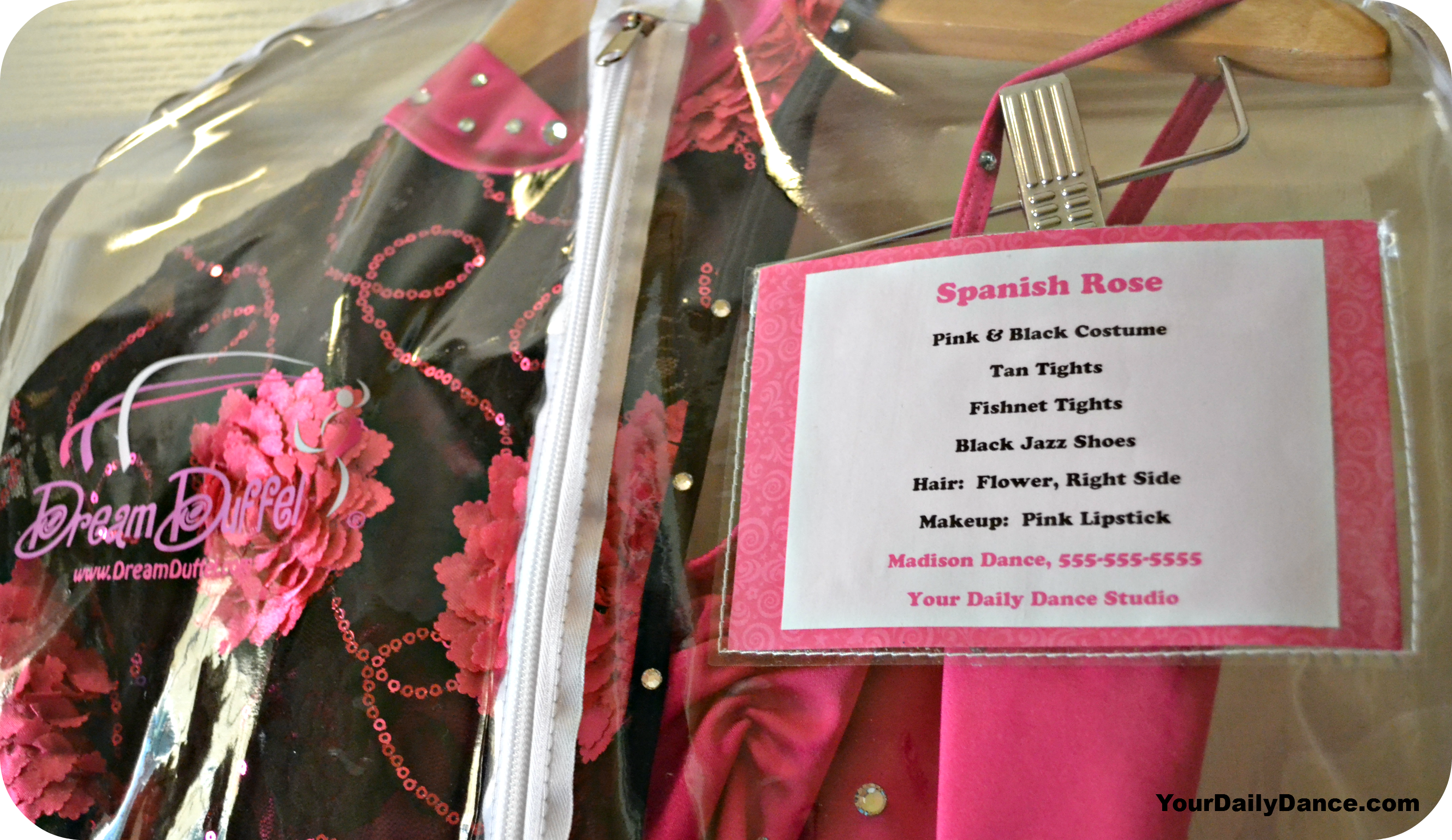 Updated: November 29, 2015
With a few years of dance competitions under our belt, if there is one thing I have learned it is to be as prepared as possible. Especially when it comes time for quick changes in crowded dressing rooms.  Labeling your garment bags is a great way to put the most important info you need in one easy to see spot.
We have a Dream Duffel and use their garment bags which we love.  They have lots of pockets for all your various costume accessories and a pocket on the outside where you can insert a label.  If your garment bags don't have a pocket, simply print the information on a packaging label and adhere it to your garment bag.  For those of you with pockets on your garment bags, here is what I have found to be helpful.
1.  Pick a piece of scrapbook paper that is similar in color to the costume.  This helps if you have a busy transition and you or your dancer are not able to hang up a costume immediately.  When you do get a moment to hang up the costumes, you don't have to figure out which costume goes in which bag.
2.  Next, type up the name of the dance and the costume details.  At the beginning of the season, trying to keep up with hair accessories and where they go can be a challenge.  Having them listed gives you a quick reference during quick changes.  If you have hairstyle changes and/or lipstick changes, this is a great place to make note of those as well.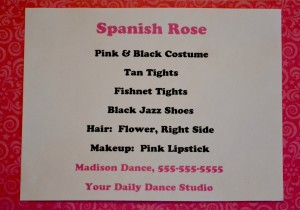 3.  Make sure to include your dancer's name, a cell phone number where you can be reached and studio name.  Things happen – costumes are placed on the wrong rack or left somewhere by accident etc.  This information will allow someone to get in touch with you.  Even if someone from your studio finds the costume, this will help them quickly identify to whom the costume belongs.
Project Details:
Scrapbook paper measures:  3 3/4″ x 5 1/2″  This fits perfectly in the garment bag slot.
Dance details paper – I try to make the font as big as I can depending on how many details I need to include.  Just cut to fit.
Glue white print out to scrapbook paper.
Place information in the pocket.
We hope this tip makes your next quick change go a little smoother!  Do you have any quick change tips?