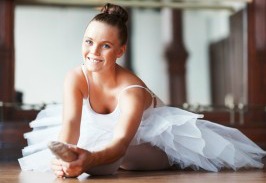 This post may contain affiliate links that allow us to earn a small commission at no additional cost to you.
Maya Angelou – she seems like one of those women that no matter what is going on in your life, you could sit down, have a chat and she would bestow such wisdom that all would seem okay.  While looking for a quote recently, I kept running across her various quotes, her words – thoughts that seem to speak so clearly and so positively.  Thoughts that seem relevant to dancers and their own journey as well as the journey of being part of a team – at times critiqued both individually and as a group.  I hope you will find the wisdom of her words as inspiring as I do.  Enjoy!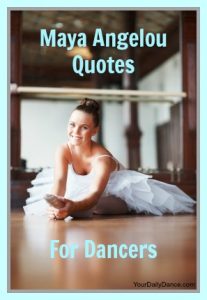 Maya Angelou Quotes For Dancers
A group of dancers:
It is time for parents to teach young people early on that in diversity there is beauty and there is strength.
For Dance Teachers and Fellow Dancers:
I've learned that people will forget what you said, people will forget what you did, but people will never forget how you made them feel.

Be a rainbow in someone else's cloud.

I've learned that even when I have pains, I don't have to be one.

We are more alike, my friends, than we are unalike.
Dance Competitions:
We may encounter many defeats, but we must not be defeated. 

I can be changed by what happens to me. But I refuse to be reduced by it.

 The desire to reach for the stars is ambitious. The desire to reach hearts is wise.

Hoping for the best, prepared for the worst, and unsurprised by anything in between.

Be present in all things and thankful for all things.
It's A Journey:
We delight in the beauty of the butterfly, but rarely admit the changes it has gone through to achieve that beauty.

All great achievements require time.

I've learned that no matter what happens, or how bad it seems today, life does go on, and it will be better tomorrow.

I've learned that I still have a lot to learn.
Dancer:
Nothing will work unless you do.

Nothing can dim the light which shines from within.

I believe that the most important single thing, beyond discipline and creativity is daring to dare.

You can't use up creativity. The more you use, the more you have.

Talent is like electricity. We don't understand electricity. We use it.
Goals:
I hope that I may always desire more than I can accomplish.
You Are Your Biggest Competition:
You alone are enough. You have nothing to prove to anybody.
Changing Studios: 
Stepping onto a brand-new path is difficult, but not more difficult than remaining in a situation, which is not nurturing to the whole woman.

If you don't like something, change it. If you can't change it, change your attitude.
A Passion For Dance:
A bird doesn't sing because it has an answer, it sings because it has a song.

I believe that every person is born with a talent.
Auditions:
You may encounter many defeats, but you must not be defeated. In fact, it may be necessary to encounter the defeats, so you can know who you are, what you can rise from, how you can still come out of it.

Ask for what you want and be prepared to get it!

When you know better you do better.

You can only become truly accomplished at something you love. Don't make money your goal. Instead pursue the things you love doing and then do them so well that people can't take their eyes off of you.
Success:
Success is liking yourself, liking what you do, and liking how you do it.
What is your favorite Maya Angelou quote?