After numerous requests for Mother Daughter songs for anything from a Mother/Daughter recital dance, to a special solo and group dance, to a tribute to Dance Moms, here are a few of our favorites.  They cover the range of sweet and sad, to silly.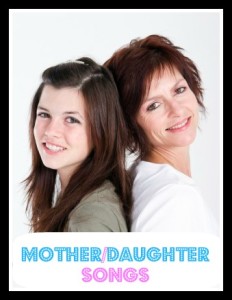 I can so relate to this quote – both as a daughter and a mother!
I love my mother for all the times she said  absolutely nothing. . . . Thinking back on it all, it must have been the most  difficult part of mothering she ever had to do: knowing the  outcome, yet feeling she had no right to keep me from charting my own path. I  thank her for all her virtues, but mostly for never once having said, "I told  you so."    

-Erma Bombeck
Recital Theme:  We Are Family
Mother/Daughter Songs
Barbie Bandaids – The Isaacs
Every Mother's Dream – Wedding Music
Good Mother – Jann Arden
I Hope You Dance – Lee Ann Womack
I Love You Mom – Candace (Phineas & Ferb)
I Turn To You – Christina Aguilera
I'll Be – Reba McEntire
I'll Stand By You – Jennifer Austin
In My Arms – Plumb
In My Daughter's Eyes – Martina McBride
It's My Mom (Instrumental) – Cliff Eidelman
Like My Mother – Lauren Alaina
Love Of My Life – Carly Simon
Lullabye For a Stormy Night – Vienna Teng
Mama – Beth Hart
Mama – Il Divo
Mama – Spice Girls
Mama Who Bore Me – Lea Michele
Mama Who Bore Me (Reprise) – Spring Awakening
Mama, I'm A Big Girl Now – Hairspray
Mama's Song – Carrie Underwood
Mamma A Rainbow – Christina Ashford
Mamma Mia – Glee Cast
Mom – Chaya Pitcher
Mom (Instrumental) – A.R. Rahman
Mom (Instrumental) – Cliff Eidelman
Mother & Daughter March (Instrumental) – Julie Andrews
My Mother – Malia Elliott
My Mother's Eyes – Bette Midler
Oh Mother – Christina Aguilera
Side By Side – Kay Starr
Slipping Through My Fingers – Mamma Mia (Broadway Cast)
Somebody's Hero – Jamie O'Neal
Stand By Me – Ben E. King
Sweet Angel of Mine – Kassie Depaiva
Sweet Child o' Mine – Taken By Trees
Sweet Child of Mine – Orleya
Thank You Mom – Good Charlotte
The Best Day – Taylor Swift
To Be A Woman – Wedding Music
Wind Beneath My Wings – Bette Midler
You'll Be In My Heart – Phil Collins
Your Mother and Mine – Doris Day
YDD is an iTunes affiliate.  All song links open in iTunes.
Do you have a favorite Mother/Daughter Song?