The Santa Dance Booth App
You can't go wrong with a free app that combines Christmas and dance.  This app has had our whole family laughing.  If you haven't had a chance to check it out, you should.
It's Back!  So much fun for families and dance friends!
Other Christmas Dance Apps Available For 2014:

1.  Take a picture or choose a picture from your camera roll.  You are able to size the head section to the picture of the face.
2.  Choose an outfit  – The Tuxedo and The Santa Suit are available options with the free version of the app.  As you can see in the picture, there are additional outfits available for purchase.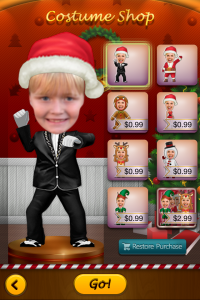 3.  Choose which dance
4.  Create a message.
5.  Prepare to be entertained.  Our family favorite is Christmas Gagnam Style.  You can save the video and share it with friends and family too.