For most parents of dancers, there comes a point in your daughter's dance life that you will make a bun.  It may be by choice for recital, a requirement for class or a performance or she may just love the way it looks – like an official ballerina and request her hair be up.  I have to laugh when I think back at how I tried to create a bun on my dancer's hair when she was younger.  While a bun was not a requirement for the recital, I loved the look and would try to create the illusion that she had much fuller hair and therefore a fuller bun than she actually had.
Fastforward a few years and the bun was the style for our company dancers.  I was thrilled, but unless I wanted her thin hair to look like the size of a donut hole on top of her head, we needed some help.  We had tried the sock bun, which was okay, but not great.  As I began researching how to make a bun, I stumbled upon the perfect product for us – the hair donut.  Check out how we incorporate the hair donut below to make a bun that works easily for dance class, school or any performance.
How To Make A Bun
The Products We Used:  Hair Donut, Brush, Comb, Gel, Clear Elastic Hairbands, Hair Pins and Bobby Pins
Step 1: Add Gel To Hair:
This is a new gel for us, but we wanted to try it out.  If you have a favorite hair gel to put your hair up, I would love to hear about it.  We were headed out to dinner after this, and she did not want her hair as slicked back as we typically do for a performance or a dance competition.  I tend to apply gel more heavily to the front, sides and underneath the hair in back, to help prevent fly aways.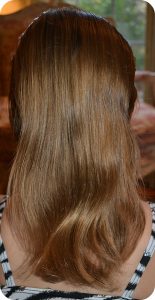 Step 2: Put Hair Up Into Ponytail
Brush hair up into a ponytail based on the type of bun you would like to have.  High ponytail for a high bun, in the middle of the back of head for a bun that is straight back and lower for a low bun.  My dancer prefers a high bun so that is what we will be demonstrating in this tutorial.  For her ponytail, I use the clear elastic bands you can get at Sally's Beauty Supply.  They are inexpensive and hold up well, but during competition season, I only use them once and then toss them at the end of the day.
Step 3:  Pull Ponytail Through Hair Donut
Slide the ponytail up through the center of the hole in the hair donut.
Step 4:  Let Hair Fall and Cover Hair Donut
Tilt your dancers head forward and pull the ponytail straight up and allow the hair to fall over the donut covering all sides.  When buying a hair donut, make sure to buy one as close to the color of your dancer's hair as possible so it will blend nicely if it is not covered completely.
Step 5:  Cover The Hair and Donut with an Elastic Hair Band
We use clear elastics for this, but you may use a regular hair band if you prefer.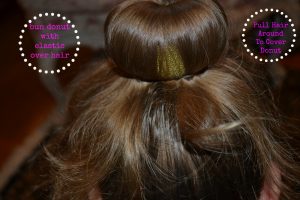 Once the elastic is on, I pull the extra hair down so I can see how much I have to pin around the bun.  I take small strands of hair then twist, wrap and secure with bobby pins around the bun.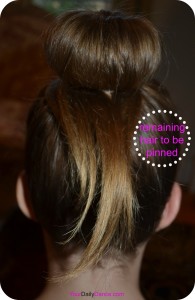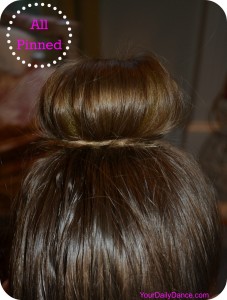 For class, we just hairspray and go like this, adding gel to the sides if necessary.
For Dance Competitions and Performances, we add a hair net and hairpins.
Step 6:  Cover With a Hair Net
I cover the bun with the hair net then twist and wrap the remaining netting over the bun and secure the end with bobby pins.
Step 7:  Add Hairpins to Secure the Bun
Insert hairpins into hair and donut to secure.  Typically I insert the pin in a downward motion and then push back up.  This seems to work better than just sticking the hairpin straight in to the bun.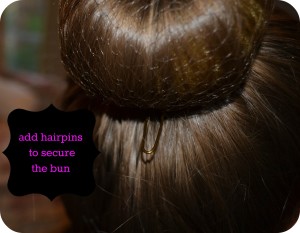 The Finished Product – Spray with hairspray and your dancer will be performance ready!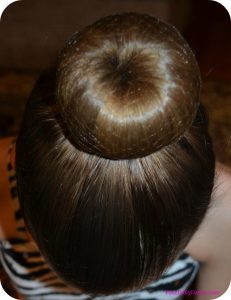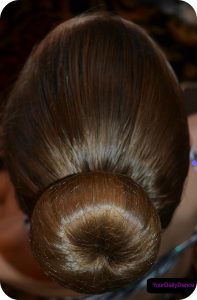 Do you have a favorite hair product you use when styling your dancer's hair?