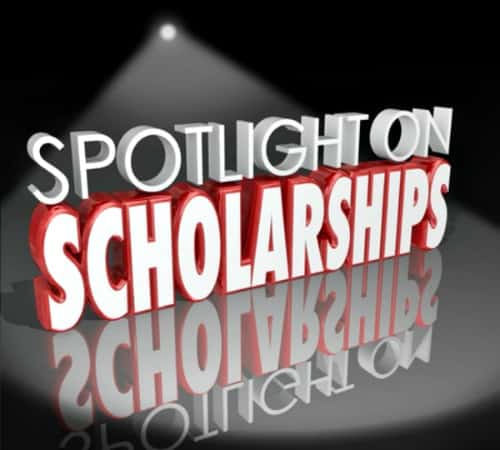 College is expensive. College scholarships for dancers and dance majors are a great way to help offset the cost of higher education and allow aspiring dancers to focus on their studies and craft. Many options are available if you are a dancer or dance major looking for financial assistance. Click the links to get details on application deadlines and requirements.  Most scholarships take into consideration both academics and talent.
In addition to the scholarships listed below, be sure to check out scholarship opportunities at the specific college your dancer is planning to attend as many have scholarships recognizing outstanding talent and academic achievements for their undergraduate students. Often the scholarships available through the university program do require an audition. Check with the dance programs you are specifically interested in to see what scholarship opportunities may be available. Some schools do offer scholarships to graduate students as well as incoming freshmen. Also, encourage your student to talk to their guidance counselor; they may have suggestions as well. Here are some of the top scholarships for dancers and dance majors:
Updated: 1/10/23
Dance Scholarship Awards
Criteria for each scholarship available to high school students may vary. Click the Learn more button in each section for more details on eligibility requirements and the application process. Some require essays, letters of recommendation, or the goal of a particular degree, such as working towards a bachelor of fine arts.
Against The Grain Artistic Scholarship
Amount: $1000
Criteria: Legal U.S. residents with at least 25 percent Asian or Pacific Islander ancestry. Qualified applicants must maintain a minimum unweighted GPA of 3.0 and engage in extracurricular community service.
Application Requirements: Artistic Portfolio, Transcript, Two Recommendations, Finalist Phone Interview
---
Arts For Life!
Amount: $1000 (25 scholarships Available) In addition to the program's $1,000 cash award, winners will be automatically eligible to receive a matching in-kind scholarship if they attend a participating Florida institution for higher education.
Criteria: Graduationg High School Senior in Florida who demonstrate excellence in creative writing, dance, drama, music or visual art.
Application Requirements: Application, Essay, Videos of two contrasting solo performances that last up to five minutes.
---
Brown Girls Do College Scholarship
Amount: $1000
Criteria: Ballet dancers of racial or ethnic minorities
Application Requirements: enrollment verification, a report card, a W-2 or tax form, and the required 500-word essay
---
CBC Spouses Heineken USA Performing Arts Scholarship
Amount: $3000
Criteria: Full-time African-American or black students pursuing a major and career in the performing arts, Minimum GPA: 2.5 on a 4.0 scale
Application Requirements: one-page resume, a recent photo, two digital recommendations, two supplemental performance samples uploaded to YouTube or Vimeo
---
Dr. Earl James Fahringer Performing Arts Scholarship
Amount: $1000
Criteria: Presented by the Hemophilia of Southern California to first-time college applicants with bleeding disorders, must be enrolled full-time at accredited U.S. institutions with artistic majors such as dance or drama, applicants must be originally from nine Southern California counties
Application Requirements: official transcript, two reference letters, a resume, proof of college enrollment; six short-answer biographical essay questions are included

---
New York City Dance Alliance (NYCDA)
Amount: $5000 – $25000
Criteria: Intending to pursue a performance-baced major (dance, musical theater) in college
Application Requirements: Application & Audition During a 4 Day Summer Workshop
---
The Dance Discovery Foundations Scholarship Programs
Amount: $500. -$2000
Criteria: Three Scholarships are offered to gifted students studying at dance or performing arts schools, companies, studios, universities, and institutions throughout Southern California
Application Requirements: The dancer must be a resident of Southern California. Students must maintain a minimum cumulative grade point average of 3.0 on a 4.0 scale (or its equivalent) and demonstrate financial need.
---
The Princess Dance Grace Awards
Amount: $15000 – $30000
Criteria: Nominated U.S. citizens and legal permanent residents, dance majors must have at least sophomore status at a nonprofit fine arts school. Available to a promising student for tuition toward professional training at a non-profit school with dance as a focused discipline located in the United States.
Application Requirements: resume, personal statement, 2 – 3 solos work samples
---
YoungArts Scholarship
Amount: Up to $10,000
Criteria: Several scholarships for dance students at both the undergraduate and graduate levels. These scholarships are open to dance majors and non-majors alike and are awarded based on merit and financial need. 3.25 GPA on a 4.0 scale
Application Requirements: Invitation Only, See individual application requirements based on your category of interest – Ballet, Choreography, Hip Hop, Jazz, Modern/Contemporary, Tap, World Dance Forms.
---
Many other scholarships and financial aid are available for dancers and dance majors, so be sure to research and apply for as many as you are eligible for. With hard work and dedication, you can find the financial assistance you need to pursue your passion for dance.