This post may contain affiliate links that allow us to earn a small commission at no additional cost to you.
If you have a dancer that is passionate about dance, at some point, they will ask if it is possible to have a dance studio on your home. They have made the most of the space in their room or throughout your house to practice, but they could do so much more with a dedicated space. Have you heard those words? "Mom, could we add a ballet barre over here and a mirror on that wall?" My own daughter had quite a bit of dance space in her room and a space to tap, but the ideas were always flowing on how it could be further enhanced.
No matter if you are looking for a space for ballet dancers, jazz dancers, tap, ballroom and any other popular dance style, there are a variety of inspiration photos to create a space that works well for the dancers in your family. You will find a variety of design ideas from more intimate dance spaces to a larger studio layout.
As an Amazon Associate, Your Daily Dance will earn from qualifying purchases.
Updated:  3/29/2022
Decisions To Make For Your Home Studio
Where will it be located?
What type of home dance studio flooring would we like to install?
Where do you want mirrors?
What type of lighting?
What type of speaker or sound system?
Do you want a TV installed?
What accessories will allow you to get the most out of your home dance studio?
Creating dance space in your home begins with choosing a location.
Home Dance Studios – Space Options
A portion of a bedroom or bonus room
A room completely dedicated to dance
A basement area finished as an in-home dance studio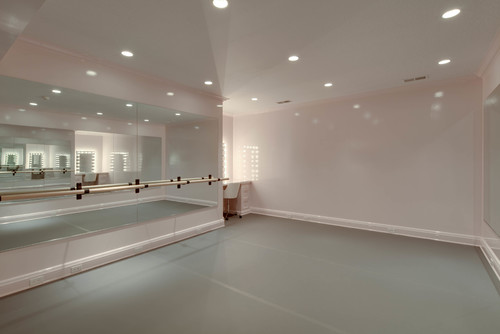 Home Dance Floor Options
Vinyl Flooring
Marley flooring which is roll-out vinyl dance flooring comes in a variety of options. Marley rolls can be installed permanently or rolled up for portable use. Marley is placed over sprung or floating subflooring to ensure your dancer is dancing on a surface that will help with injury prevention. Dancing is hard enough on the body, it is a necessity to protect their feet, ankles, shins, and knees. A lot of dance studios use marley flooring as it is easy to clean, durable and allows dancers to get a better grip when dancing.
Traditional Hardwood Floors
Wooden flooring should be placed on sprung subflooring in an effort to prevent injury to your dancer. This is particularly important if you are transforming a basement area and will be placing your wooden flooring over a concrete floor, laminate flooring, or carpet.
Practice Dance Tiles
Practice dance tiles are a great option if you would like to transform a smaller space or section of a room. There are a variety of companies that sell practice dance tile kits as well as you can find them on Amazon. Most get good reviews for durability
With any of the above flooring, weekly removal of dust and dirt will be essential to keeping the floor in tip top shape.
Dance Studio Mirrors
The type of mirror that is best for a home dance studio, is a traditional glass mirror. If you are adding a practice space to a room that will be used for other things, decide where you have a free wall that would be ideal for hanging mirrors. You will need to decide if you would like mirrors along one wall with a barre attached or on the opposite wall as shown below. Or as shown in subsequent pictures, the barre is attached along the length of the mirrored wall or on just a portion of the mirrors. Installing mirrors large enough such that the dancer can view their full body and check their position and alignment while dancing is important.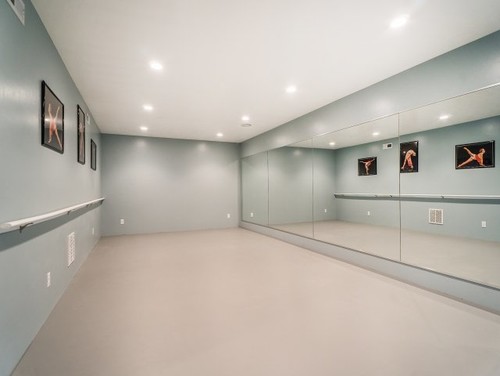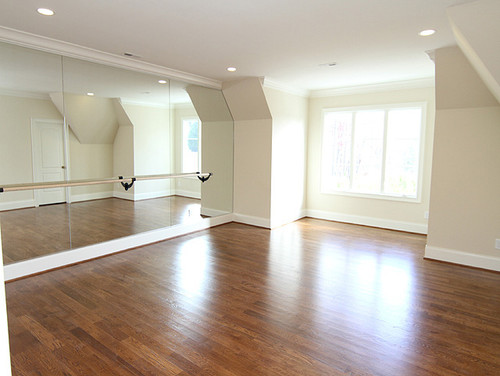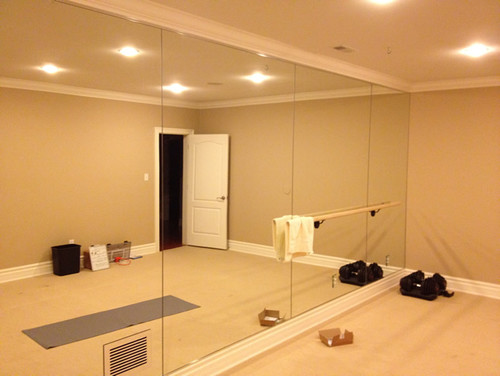 Home Dance Studio Lighting
Can lights work best, since they can be installed throughout the room to add ample light and do not interfere with your ability to move throughout the room. If you have lower ceilings this is an ideal option. If the space you are transforming has a fan installed in the center of the space and it would interfere with leaps for example, you may opt to switch that out to a light that does not hang down.
Music Systems or Speaker
This is completely personal preference and largely dependent on where your dance space is located. Is it part of a fitness area or in the basement in a space that is primarily used for entertaining. In that case, a speaker system may be a great option. Is it in a portion of the room or an area where a full sound system may be disruptive to others in the household. If that is the case, then a simple portable speaker may serve the purpose. Bose has wonderful portable speakers that have great sound quality and are easy to move about the house. Here is the one we own.
TV
Do we need a TV in our space? There are several benefits to installing a smart TV in your home dance studio. You can watch your dances and look for areas to improve. If you want to take an online dance class or happen to miss a class at your dance studio and need to get caught up on the choreography you missed, a TV is a great option for playing the video on a large screen – definitley easier than watching your phone or laptop. In addition, if the room is doubling as a fitness or workout area, a TV is a great way to stream fitness videos or watch them on YouTube.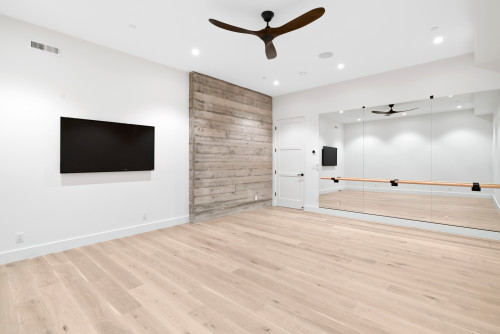 ---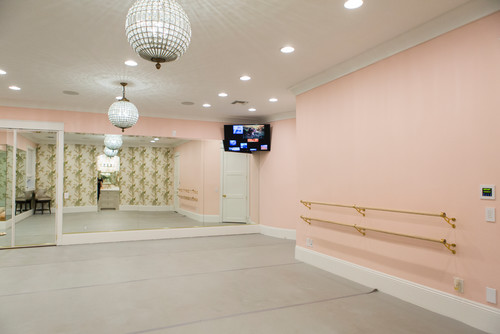 ---
Dance Accessories to Enhance Your Space For Dance And Cross-Training
Tumbling mats
Resistance Bands
Portable barre for practicing ballet technique if you decide not to mount one directly to the wall – there are both wood and aluminum options available.
Portable fan if necessary
Foam Roller
Flexi Stretcher
Turnout Training Discs
Bosu Ball
TRX System for strength training and building your muscles – these can be attached over closet doors or from the ceiling.
Shelves to display trophies
Wall Art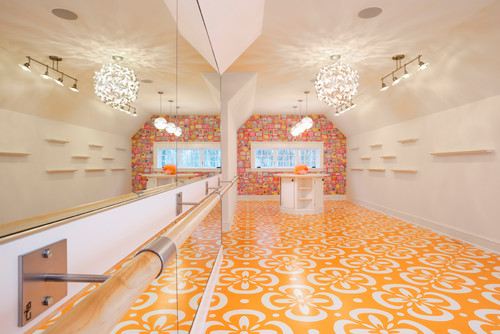 ---
If you have questions about any of the items featured in these rooms, go to Houzz.com and each room has the option to ask a question. Just click the button, fill out the form and someone will get back to you.
Do you have any tips or suggestions for creating a dance space in your home? If so, leave a comment below.
Editors Note: This post was originally posted in August 2012 and has been completely revamped and updated for accuracy and comprehensiveness.
---